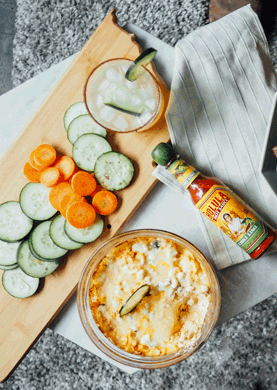 Super Bowl Spotlight: Cholula Hot Sauce & Daisy Sour Cream For the Win
---
Just in time for the Super Bowl, Federated Media's amazing community of content creators teamed up with Cholula Hot Sauce and Daisy Sour Cream to conquer the kitchen table with these crowd-pleasing game day recipes. The resulting highly-visual content is stylized and amplified across social platforms to reach key target audiences.
Cholula Hot Sauce
The Challenge
Introduce Cholula Hot Sauce to a target market who might fear the kitchen and avoid traditional advertisements: Millennial Dads.
The Playbook
Cholula enlisted Federated Media to help launch their new media campaign, "Uncap Real Flavor." Federated Media activated foodie content creators to participate in cooking challenges to create unique recipes that highlight the brand's full line of hot sauce flavors. Federated Media tapped into the target market by positioning content around holidays and large tailgating events.
The Team
Foodie Crush's Chicken and Waffle Sliders
Scout Sixteen's Taste Bud Touchdown: Cheesy Chicken Dip, Mac & Cheese Kickers, Diablo Brownies, and Spiked & Spicy Lemonade
Daisy Sour Cream
The Challenge
Introduce the Daisy Squeeze Sour Cream product to Moms aged 25-54 and Hispanic Mothers 18-49, and prove kids can join in the kitchen – without the mess.
The Playbook
Daisy partnered with content creators in Federated Media's food vertical to create authentic original recipe and party ideas, and got their kids to lend a hand with the game day prep. Original dishes incorporated Daisy Squeeze Sour Cream and key brand messaging. In the campaign, Daisy learned learned that Spanish language content resonated with its Hispanic audience, but those same consumers preferred to share that content in English.
The Team
Eat at Home's 7 Layer Dip End Zone Recipe
The Glamorous Housewife's Epic BLT Tots
Jenn's Blah Blah Blog's Super Quick & Easy Chicken & Avocado Quesadillas
Whitney Bond's Taco Croissants
Cool Mom Eats' Creamy Chicken Enchilada Potato Skins
Evesther's Deliciosas Papas a la Tex-Mex