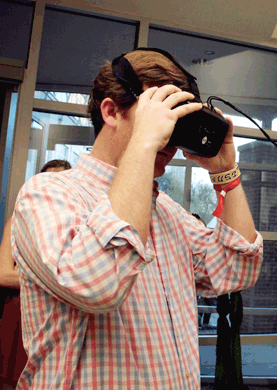 5 Themes Behind SXSW 2016
---
As pop-up stores shutter their doors and sponsor tents collapse for the year, a tidal wave of think pieces from SXSW is flooding the internet. Professionals from technology, media, fashion, retail, and the President himself came to Austin to speak about the future of their industries and how the overlaps between them are creating an interconnected experience. Below are five takeaways from the plugged-in world of SXSW 2016.
1. The future will be consolidated.
The end of the app is coming. At least if messenger apps have anything to do with it. Just as browsers like Chrome and Firefox provide access to every webpage, messenger apps could soon become the browser from which users interact with every company's "chatbot."
Imagine opening Kik and texting a restaurant's chatbot to make reservations, messaging Uber to schedule a ride, and confirming details with your friends, all on the same platform. WeChat, the Chinese messaging app yet to breakthrough in the US, is working to facilitate these all-in-one interactions. Chatbots are less expensive for brands to design than a mobile app, and untether users' storage space from dozens of single-serving apps. With the goal of moving virtual reality (VR) to the phone and linking entire homes with smart appliances as the "Internet of Things" continues to grow, the trend of executing multiple tasks from one access point will soon be the guiding principle behind product strategy.
2. Virtual Reality is here. Now where's the content?
If 2015 was the year of virtual reality for developers, 2016 is the year of virtual reality for consumers. Consumers will be able to get their hands on virtual gear from Oculus, Samsung, Mattel, and others. Now, is there enough quality content to match the boom in hardware production?
"At the end of the day, storytelling is the most important thing. From cavemen on walls to books," according to VR pioneer and Baobab CEO Maureen Fan. But creators cannot fall into the temptation to create cheap thrills like 1980s 3-D. "A lot of users are just experiencing VR for the first time. It's important we don't cheapen the content or we'll risk scaring them off."
3. Tech ethics are about to face some major challenges.
While "with great power comes great responsibility," is more of Comic-Con line, the sentiment loudly echoed in the Austin Convention Center. Is VR safe for users under 12, akin to sitting too close to the TV, despite headsets that brandish clear warnings for minors? What are the editorial and journalistic best practices for a format so lifelike that content provokes a physiological response? Beyond VR, why is tech behind in addressing civic issues like voter registration or public services like bureaucratic transactions at the DMV? Are smart cities helpful for lower-income citizens or designed solely for a connected upper class? Focused on addressing the human needs that tech can meet, the second year of the panel category "SXgood" showed that openly discussing ethics and the role of technology in the public sphere must become a cultural priority.
4. The consumer is (rightfully) moving back to the center of advertising.
In digital media, intrusive advertisements leave brands one swipe away from irrelevance. Discussing ad blocking, panelists agreed "we have to move from marketing to consumers to mattering to people."
Beyond well-targeted ads with engaging content, brands must be welcomed into the overall user experience. The Acceptable Ads whitelist on AdBlock Plus is a controversial demonstration of the principle. At "We're Not Gonna Take It: Ad Blocking and User Revolt," Ben Williams of Adblock Plus revealed that only 8 percent of Adblock Plus users choose to opt out of the Acceptable Ads version of the software, a variation that includes ads only if they adhere to strict criteria that does not affect a site's load time or restrict the view of site content. Agencies and advertisers may rail against the restricted file sizes, but the opt out data suggests technologically-empowered users demand an augmented advertising experience.
5. Millennials are over. All hail Gen Z.
As millennials get older, a younger generation has been quietly redefining youth culture society's relationship with technology. As a result, marketers' focus has finally shifted to Gen Z (or Founders, or Centennials, or…). Their admiration for "authentic" brands is higher, their time spent with mobile devices is higher, and their understanding of technology like ad blockers and web customizers is higher.
The arrival of Gen Z, the most diverse generation in American history, will also redefine the image of tech. SXSW panels are rightly headlined by thought leaders at the top of their fields, and despite conversations about media portrayals of American Muslims and how Mexican beers reach the general market, the composition of panels reflected the lack of women and people of color at the top of technology. Attendees of the conference, particularly at events covering younger-skewing topics like Snapchat, revealed the diversity entering the industry. As opportunities grow for technology professionals of all backgrounds, it's clear the promise of diversity is reaching SXSW, even if its harbingers are just beginning their careers.
While brands attempt to engage this diverse crowd in conversation and stay one step ahead with developing technology, it's clear Gen Z – and every generation touched by the trends emerging from SXSW 2016 – will soon possess the power to redefine relationships with brands, publishers, governments, and each other.