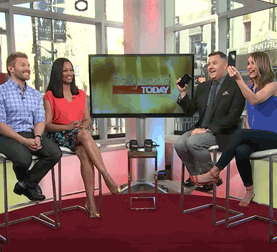 Motorola and Hollywood Today Live's Red Carpet Review
---
As live events crackle with energy, any second could lead to a jaw-dropping moment. But these days, you're more likely to drop your phone than your jaw. To help drive awareness of the new shatterproof Droid Turbo 2 phone, Motorola partnered with Federated Media to create the #PhoneDrop moment, a celebration of the most exciting moments of the 2016 Grammys and Oscars.
Leveraging our strength in lifestyle and entertainment, Federated Media created a cross-platform campaign around seven original segments on Hollywood Today Live.
Hold onto your phones! Hollywood Today Live presented the top #PhoneDrop moments over the years, along with a Grammy's fashion recap, Man on the Street predictions, and a recap of the 2016 Oscars #PhoneDrop moments.
The Motorola campaign also included native advertising units across desktop and mobile sites, pre-roll, and high-impact distribution. FM content creators The Everygirl and B. Scott continued the conversation around #PhoneDrop moments by live-tweeting the events.
The creative concept proved so successful that Motorola now uses #PhoneDrop across all creative platforms to promote the new phone.