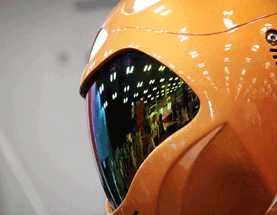 Content Roundup: SXSW 2016 Cheat Sheet
---
The sheer scale of SXSW promises that it's impossible to hit every event and party at the mega conference, no matter how much you pack into your schedule. During your 15 minutes in that mobile sleep pod, a pack of St. Bernards roamed the streets to deliver emergency phone charges to those who tweeted a screenshot of their dying phone, and Michelle Obama delivered a keynote address with the help of Missy Elliott. Fortunately, Federated Media's content creators were on the ground to cover the latest in film, lifestyle, tech, and music, making it easy for you to catch up on what you missed during SXSW 2016.
Film
Simon Pegg, Lupita Nyong'o, and Daniel Craig snuck into the Star Wars movie – but did you know Bill Hader, Peter Jackson, activist Malala Yousafzai and actor Karl Urban left fingerprints on the Blockbuster? Film School Rejects reviewed the best of SXSW Film, including the new Star Wars: The Force Awakens documentary and SXSW standout Midnight Special, and toured the Game of Thrones Hall of Faces exhibit. Other notable sneak previews included Preacher, the next great geek show, and Mr. Robot, a USA Network show that brought some hacker cred and a Ferris wheel to SXSW.
Lifestyle
Lifestyle and fashion guru Camille Styles hosted an elegant and intimate house party with Who What Wear, featuring sips, bites, and beats for those in need of a break from the crowds downtown. Camille also gave tips on eating like a local Austinite and keeping balanced and active during the festival chaos.
What's Trending took over a retrofitted home-turned-bar to provide a weekend of happy hours in the shade with Austin Pets Alive! and Scotts Miracle-Gro. As an alternative option to the downtown scene, The Daily Dot led a tech'd out cycling trip through a Texas state park for those willing to venture outside Austin.
Tech
The Austin Convention Center – the motherboard of all things tech during SXSW Interactive – became the real-world epicenter of virtual reality. Gizmag's highlights included emotion-sensing robots from Japan and life-size TIE fighters, along with new virtual reality cameras and wearable tech. Ubergizmo was more struck by the lifelike features of the artificially intelligent Sophia, though she has some communication limitations. The festival also brought together the worlds of journalism, tech, and gaming, leading to the resurgence of Gamergate.
Music & Beyond
Two ears are simply not enough to hear all of the shows during SXSW Music. Mic caught up with bands like Xylo to bring you art and playlists featuring a few of the indie outfits playing in Austin, and applauded Spotify's efforts to give back to the city's youth after the festival. Venture Beat also called for more rock n' roll n' responsibility from SXSW, echoing President Obama's challenge for cultural leaders to address the philanthropic and civil improvements possible in a connected society.
What will SXSW 2017 bring? Our content creators will have an ear to the ground — and Federated Media will be ready share those insights with you.