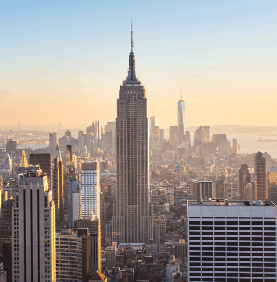 Social Grows Up: 3 Takeaways from Social Media Week 2016
---
What's next? For years, the conversation around social media has revolved around spotting buzzy trends or emerging platforms. Social Media Week 2016 gathered digital experts to encourage brands and agencies to stop asking "what's next" and start asking the actionable question – how do we do better? Better at integrating social media with marketing campaigns, with data and reporting, creative, and more. This year, the conversation moved past the potential opportunities unleashed by social media and instead focused on honing those opportunities as the industry matures. Panelists aimed to prove that social media is now producing concrete results and data, and tapping into this new information is the next step for successful brands and agencies.
Below, three key takeaways from this Social Media Week 2016.
1. Social media is not here to make friends. Social media is here to be America's next top marketing channel.
Social media is no longer an approaching disruptor. Now that brands are fully integrating social media strategies into the entire overall mix, how do social teams justify their campaign spend?
For Brewster Stanislaw of Simply Measured, this means gaining more comprehensive information about social media ROI and leads. "When people are clicking URLs and sharing URLs within chat apps, they arrive with no referral. Thus, they're direct traffic driven by social. That's a lot of people driving traffic in a way you're not measuring today." This unmeasured traffic – "dark social" – could account for nearly 50 percent of all inbound social traffic. Social professionals must champion technical solutions like URL hash fragments to resolve the hurdles towards demonstrable ROI.
2. Authentic storytelling trumps all, regardless of platform.
Keynote speaker and National Geographic Chief Marketing Brand Officer, Claudia Malley, drove home one key message, "If an article or picture doesn't make you feel something, then what's the point?"
The supremacy of any particular social media platform may be a game of thrones, but the keys to reaching your audience have stayed the same. Throughout the week, panelists continued to espouse the need for top-notch storytelling and interaction with communities in an authentic voice. Discussing ways to engage millennials in a TL;DR (too long; didn't read) world, VaynerMedia's Erin Doyle recounted a video project that initially ran well over the brand's requested time limit, to later find that the longer version boasted a higher completion rate over the quick and dirty cut.
For brands like Daisy Sour Cream, one voice is delivered in two tongues. While working with our community of content creators like Eat at Home, The Glamorous Housewife, and Cool Mom Eats, the family-friendly brand discovered that Spanish language content resonated strongly with Hispanic audiences, but that same audience preferred to later share that content in English. The takeaway? Creating compelling content and telling the right story in an authentic voice is what helps brands succeed on social.
3. Social media is officially full-funnel.
Dropping its 140 character limit, Twitter will soon have the ability to host entire content initiatives driven by brand advocates. The emergence of video and video view metrics on Instagram allow communities to spread awareness to their peers instantly, sharing concerts or sporting events in real-time. And Pinterest is redefining itself as a curator of preferences that soon become purchases. "Nearly 9 in 10 users on Pinterest use it to help decide what to purchase," according to Michael Akkerman, Pinterest Head of Marketing and Developer Partnerships.
Beyond Pinterest, social savvy brands like Shutterfly have turned to influencer marketing to tap the social followings of established influencers. Creating content with Federated Media influencers like Camille Styles and Meg Biram allowed Shutterfly to reach an engaged target audience and move past awareness into consideration and preference stages of the funnel.
Brands across the board are seeing social media as a useful tool further down the funnel. "On the one hand, it's about engagement," explains Philippe von Borries, co-founder and co-CEO of Refinery29, "and on the other, it's about conversion and getting people to check out as quickly as possible. Making those experiences harmonious is a really difficult product decision."
Recognizing the need to balance that product decision has matured social media marketing to its current state in 2016. Finding the proper balance and tracking the user experience across multiple channels is the opportunity for social media professionals to do better.