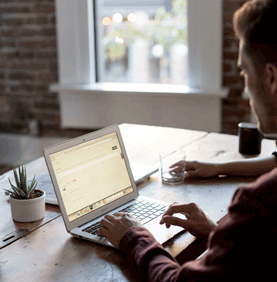 Five SEO Essentials for Your Business Website
---
By Corissa Craddick, Jonathan Spindel and Matthew Wilson
Are You Giving Up Valuable Organic Traffic?
Anyone who does business online should be paying attention to trends in SEO. Neglecting SEO means you're forfeiting free traffic and losing web presence to your competitors. We've compiled a list of the most essential SEO strategies for improving your website's organic traffic and overall visibility.
Quality Content
Quality should be your top priority when creating new content for your site. Google's algorithm continues to grow increasingly intelligent, and long gone are the days when keyword-stuffed gibberish could fool the search engines. Instead of writing to Google, write to your audience by focusing on topical rather than exact match keywords and providing useful information to your users. Exact match is certainly useful but should never be unnaturally forced into the copy. Google will evaluate your site for natural, quality content and award ranking accordingly.
On-Page Optimization
On-page optimization consists of a number of different strategies that can improve SEO and the click-through rate of your website. One of the most crucial strategies is to assure that your top landing pages — and others, if possible — are updated with keyword-enriched title tags and meta descriptions. These tags and descriptions allow search engines to index your website according to relevance. Other essential strategies include hyperlinking to relevant internal pages, avoiding duplicate content from page to page, and providing an easy-to-navigate layout that allows conversions to take place without fuss.
Local Search Information
Search engine results play a big role in local buying decisions. When users search for geographically specific terms – for example, "Oil change Austin Texas" or "Farm to table dining New York City" – search engines compare the query keywords against a database of local listings. To optimize for local search, be sure your NAP (Name, Address, Phone) information is consistent on your site, on online Yellow Pages, and across all search engine business listings. Additional local optimization can be implemented via Schema markup. Stay tuned for more information on Schema in upcoming articles.
Website Architecture Catered to the User Experience
Have you ever been annoyed by a website that's hindered by poor design and clumsy navigation? Poor user experience discourages potential customers and makes a negative impact on conversions. Conversely, a clear page-flow and URL structure help search engines index your website. Search engines find results clearly on a neatly-designed path as opposed to a convoluted labyrinth. Logical and efficient website architecture reflects a navigable and useful website, and is rewarded with favorable rankings in search results.
Responsive Web Design That's Mobile Friendly
In response to the growing number of mobile internet users, Google recently announced significant changes to its search algorithm: mobile-friendly sites will rank favorably compared to their non-mobile-friendly competitors. Because mobile traffic now accounts for over half of total internet traffic, you'll want to make sure your site is optimized accordingly. Responsive design ensures an optimal viewing and interaction experience on every device. So, how can you ensure your site is mobile friendly? Google has supplied a mobile-friendly test tool which you can use to evaluate your site. You may find you need to update your content management system (CMS) or theme to a mobile-friendly version.
Is your website missing any of the essentials we've listed here? Our SEO specialists can help you gain a deeper understanding of your website's organic performance. A strong SEO strategy lays a foundation for your online business and can even help your pay-per-click and display campaigns perform better. Contact us at seo@lin-digital.com for an SEO evaluation today.